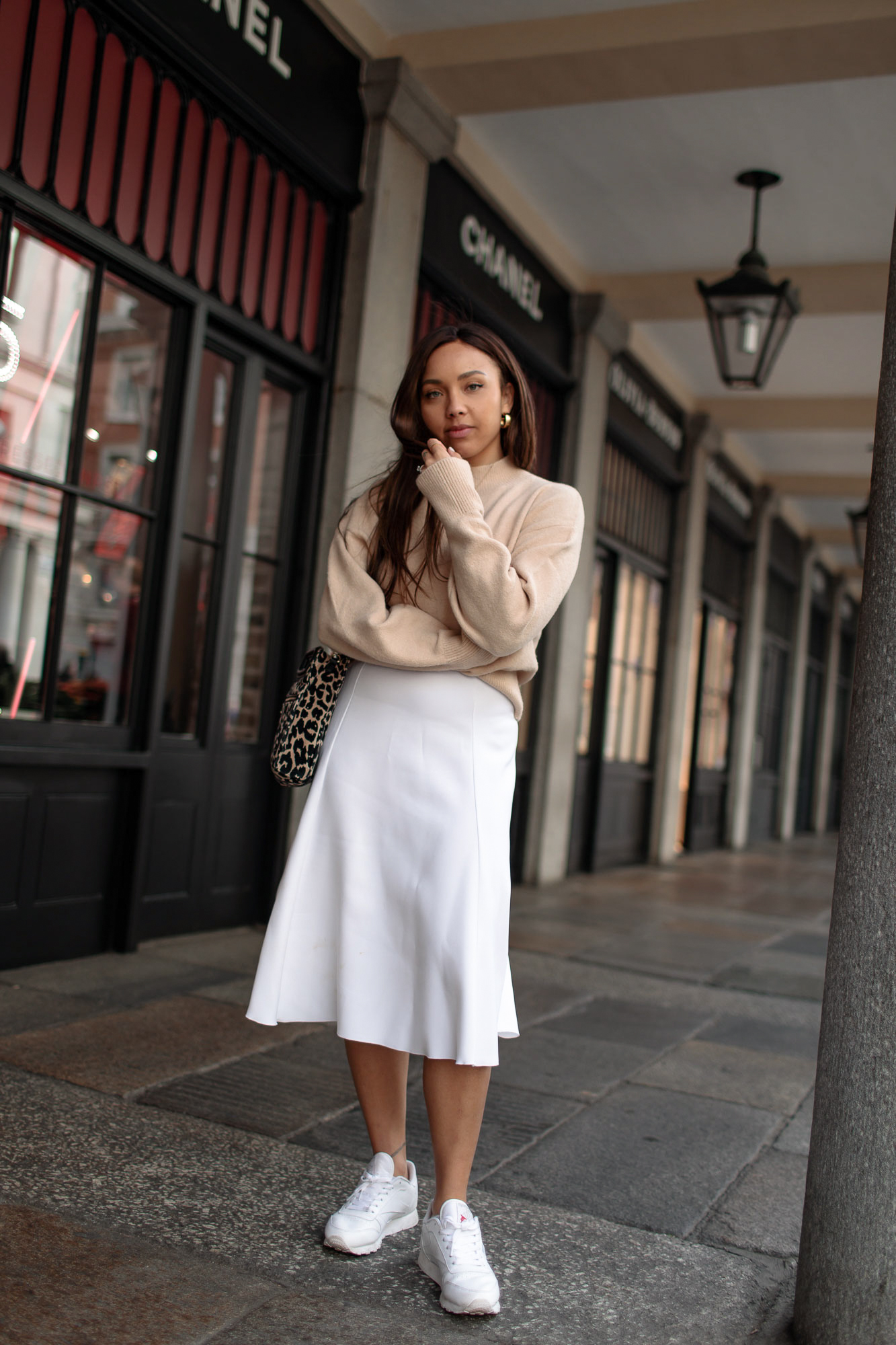 JUMPER - &OTHERSTORIES / SKIRT - TOPSHOP / TRAINERS - REEBOK / BAG - MAJE
It is...Upon us! Black Friday, you know the deal. It is a week of amazing deals and even though it can get a little overwhelming at times, I really enjoy sitting and sifting through the sales in an effort to find my personal gems...and I thought I would share those with you!
This year I am trying to shop smarter and focus more on the longer-lasting, staple items. I am very aware of sustainability being much more of a prominent issue within the world of fashion at the moment, so this year I am going to link fewer trend-lead items and more of the items which might usually be a bit of an investment for your wardrobe - this being a great time of year to finally nab them while they are a little more pocket-friendly.
It's also a great time to complete your Christmas shopping - This year I personally am getting it all done early to avoid the stress of it during December, so i'm going to include a little gifting edit too.
Feel free to bookmark this page so that it is easy to come back to during the week because I will be updating it every day with additional discount codes and new shop edits, they often slowly come in during the week. Happy shopping!
All images are clickable!
 M A N G O 
I love Mango for their reasonably priced knitwear and stylish basics.
Their coats and footwear are usually more of a splurge, so this is a great time to feel a little less guilt for nabbing those types of pieces! 
30% off with code BLACK18
 A L L S A I N T S 
My go-to for leather goods and the most amazing quality knitwear. Everything i've ever had from Allsaints has lated me for years 
and had 100% been worth the investment. 
T O P S H O P 
Topshop coats/outerwear have to be my favourite items to grab during their sales. They are SO cosy and have a great balance between looking timeless with a trend-lead touch. 
---
ASOS
Of course, ASOS contains a whole treasure trove of just about everything so this one was hard to pin down to a few items,
but these picks are some of their newer stock and they are all pieces which could fit super easily into your wardrobe, updating your key pieces. 
M I S S O M A
Missoma is one of my absolute favourite jewellery brands and has been for a few years now. I wear my 'S' pendant necklace every single day!
The quality is amazing and the designs are just perfection. Treat a loved one for Christmas or just..you know....yourself 😉
GIFT EDIT
A little Amazon selection of some gift ideas for christmas. I will be doing a whole post for christmas gifting ideas but while it's sale season, why not tick a few boxes early?
& O T H E R S T O R I E S 
For me, this is the shop where I bookmark things during the year because i'm not quite ready to splurge.
So this is also where i'm going to maybe go a little crazy for Black Friday.
Here are some of my top picks of the moment, I am definitely getting my hands on those short black boots!
BLACK FRIDAY SALES CODES 
(Will be updating daily with new codes until the end of the week)
(Affilliate links are used for this post)