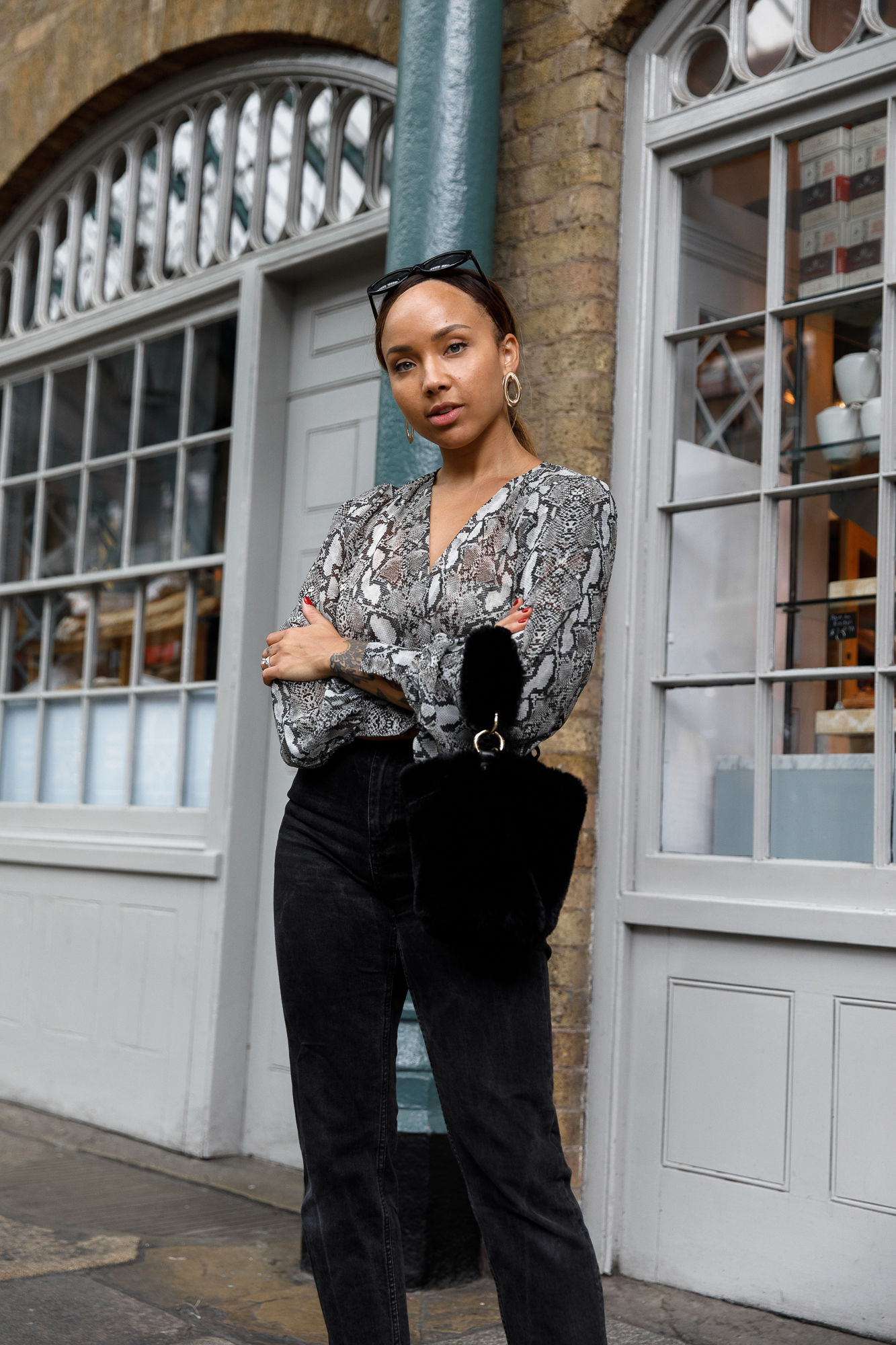 SHIRT - ZARA | JEANS - TOPSHOP | SHOES - GANNI (Similar - &Otherstories) | BAG - TOPSHOP | SUNNIES - WEEKDAY | EARRINGS - MANGO
I recently created a video on the A/W trends for this year, where I picked out my favourites from the long list of looks from the catwalks and I focused on the most wearable and the most relatable looks for me and my wardrobe.  (You can watch that video here)
My first trend and the most different for me to incorporate into my life was snake print. I haven't owned much snake print before, I had some boots a few years ago but since then I haven't reached for snake print very much. I think it can be a little bit of a daunting animal print at first, even the name of it makes you wince a little, thinking 'eh...I dont think so...'.
But I think it can look very chic, modern and playful if it's styled in the right way!
If you are someone who does like to update your wardrobe for the season and you're someone who like to mix one stand-out piece with your usual paired-down look, then I thought i'd share some easy ways to add snake print into your wardrobe.
SHIRTS
In this post I am wearing a sheer snakeskin print body from Zara. As soon as I saw it I knew it would be easy to style and that it would be flattering on me. I chose this one because even without the print - the fabric, shape and neckline of this top work really well for me. Then you add the print and it's an all-in-one.
Make it personal, Choose a shape of shirt that works for you. It helps if it's a shape of shirt that you usually wear so that you're comfortable in it. There are smaller, more intricate prints and larger, more garish prints. Go with what speaks to you!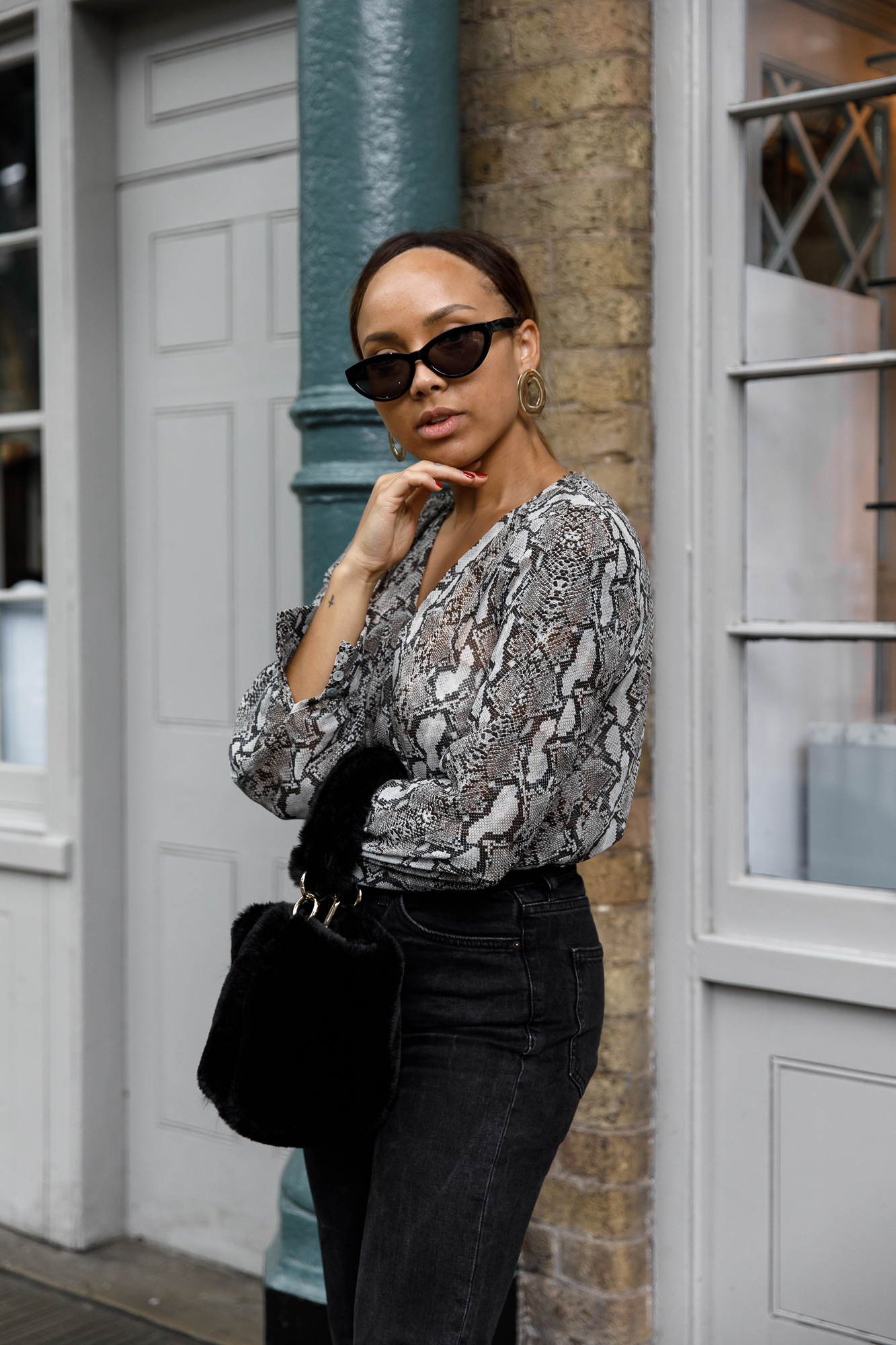 BOOTS
I think boots are actually the easiest way to wear this trend. It's a subtle, low-key way to incorporate pattern into your look and an easy way to always look on-point for the season. They are also very easy to find.
Again it's just a case of finding the right print and finish for you. Have a think about if you want them to be shiny, pointed, high or low-cut. I have seen some amazing thigh-high snake print boots around too, I'm not sure i'f i'd quite pull those off but I love the versatility with bold winter boots these are the go-to for this year.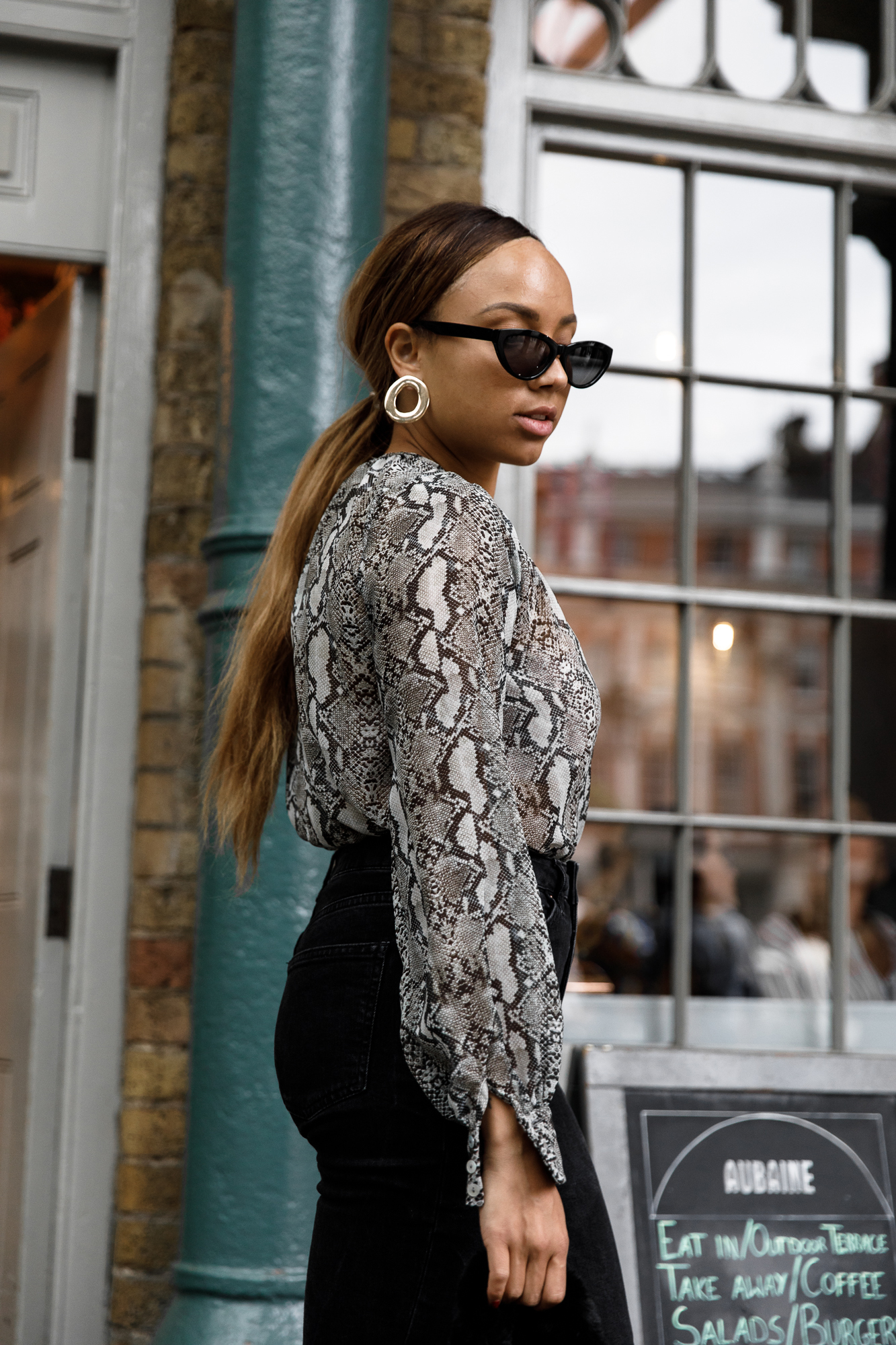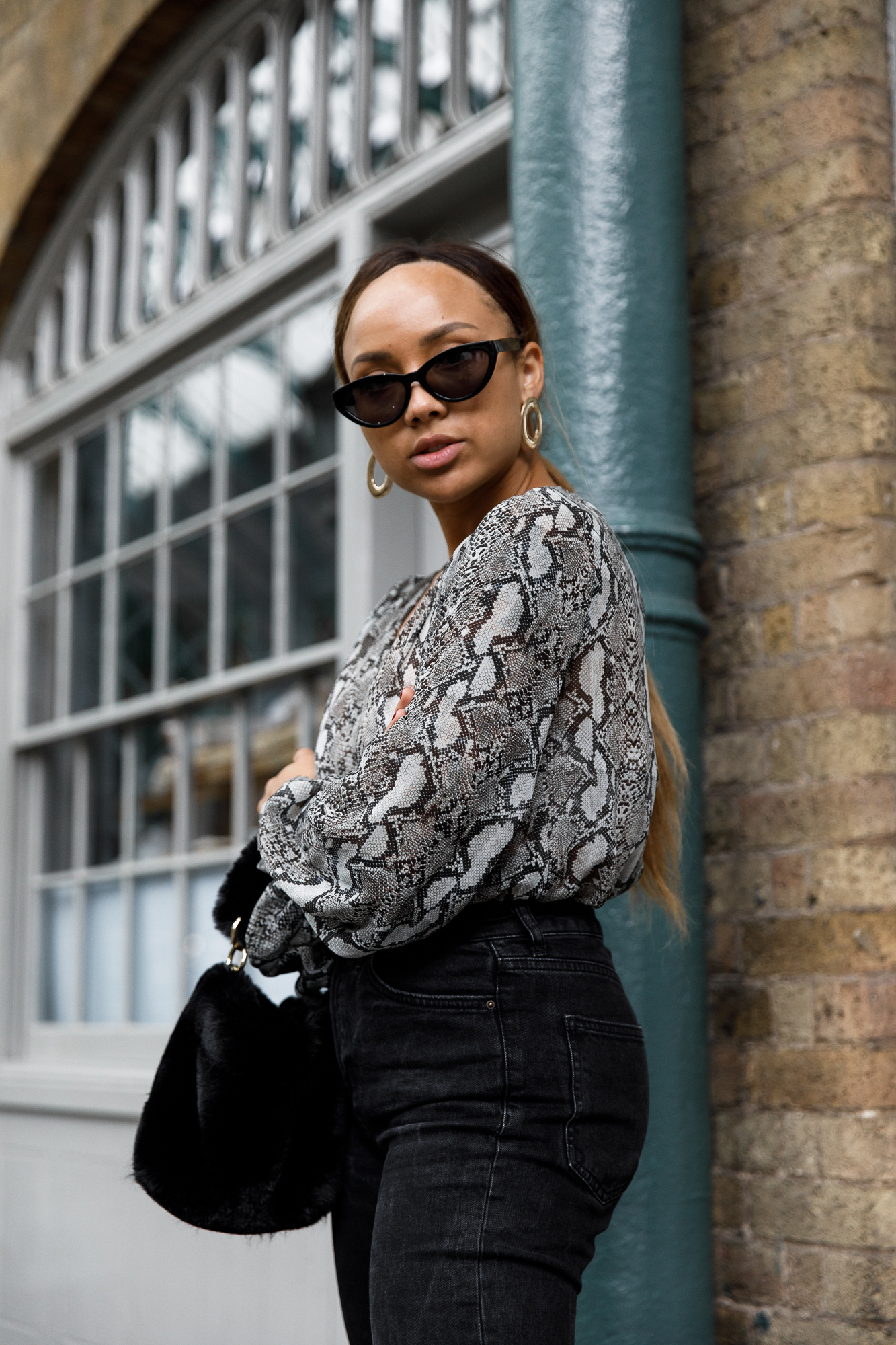 DRESS
For those who dare, go for a bigger whole-outfit option for this trend. If you love this print and you want to embrace snakeskin and welcome it wholly - go for a snakeskin dress or jumpsuit. The thing about dresses for winter is that they make building your outfit very easy because the dress does all of the work for you. From there, throw on your go-to leather or denim jacket and some converse and go.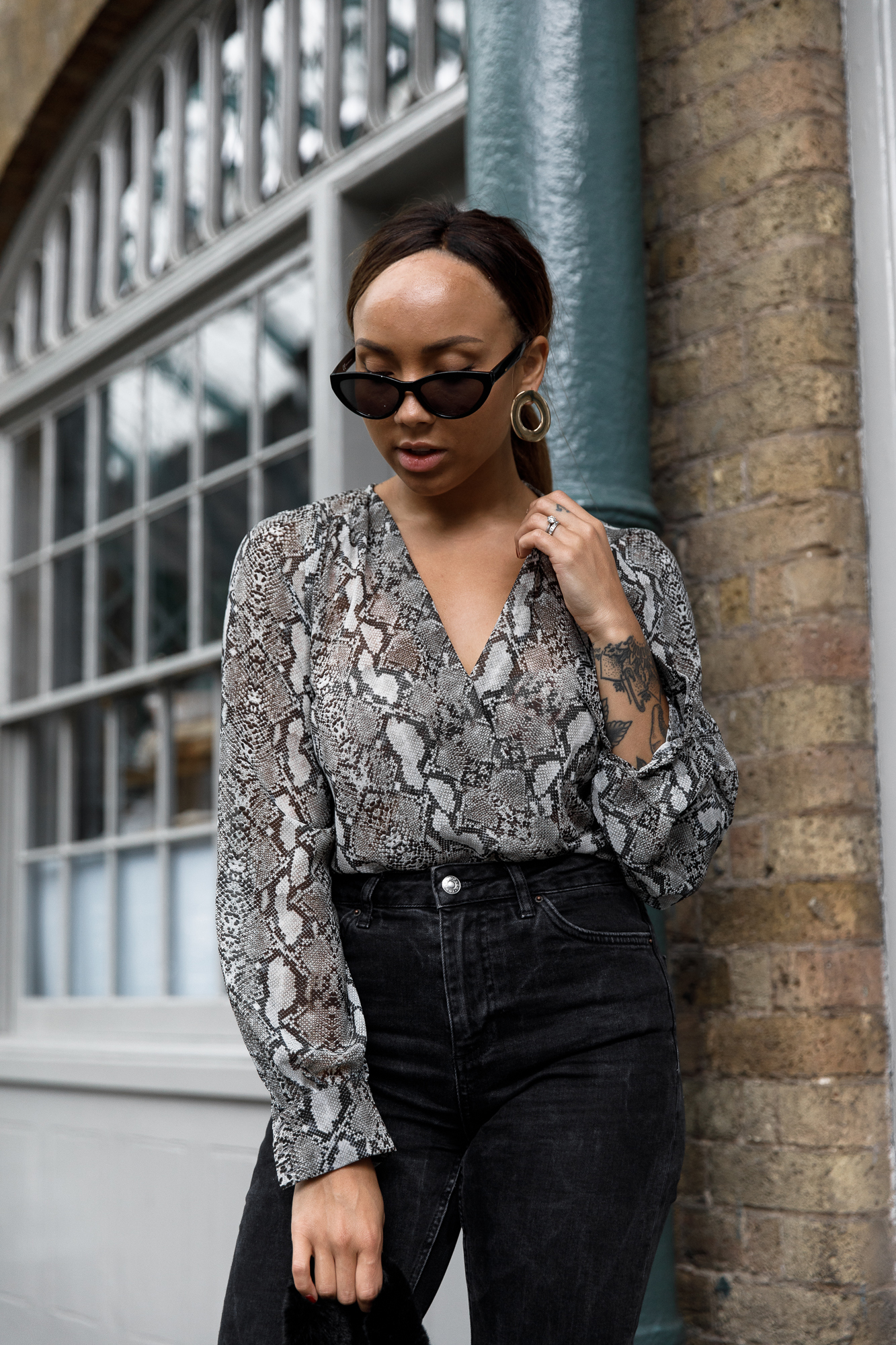 SKIRT
The best piece for creating a layered-look with. My favourite design for snakeskin would be a draping midi skirt. This is a slightly calmer way to style the print than with a long dress because you can break the look up with a minimal jumper or a t-shirt and grey blazer.
It's a good way to add that little bit of interest to your look. Picture it flowing out underneath your structured winter coat, paired with your favourite leather boots and crossbody bag.
BELT
For those who want to just dip their pinky toe...there are always accessories! If you're someone who doesn't like to surrender to the trends constantly and who likes to pick and choose to incorporate them when you want to, then why not update your look in an understated way?Snakeskin can look a bit brash when made into certain accessories but I think belts are a classy and safe way to go. The print can also really compliment a few different tones & colours well, so it could be a nice way to bring life back to neglected dresses and coats for this year.