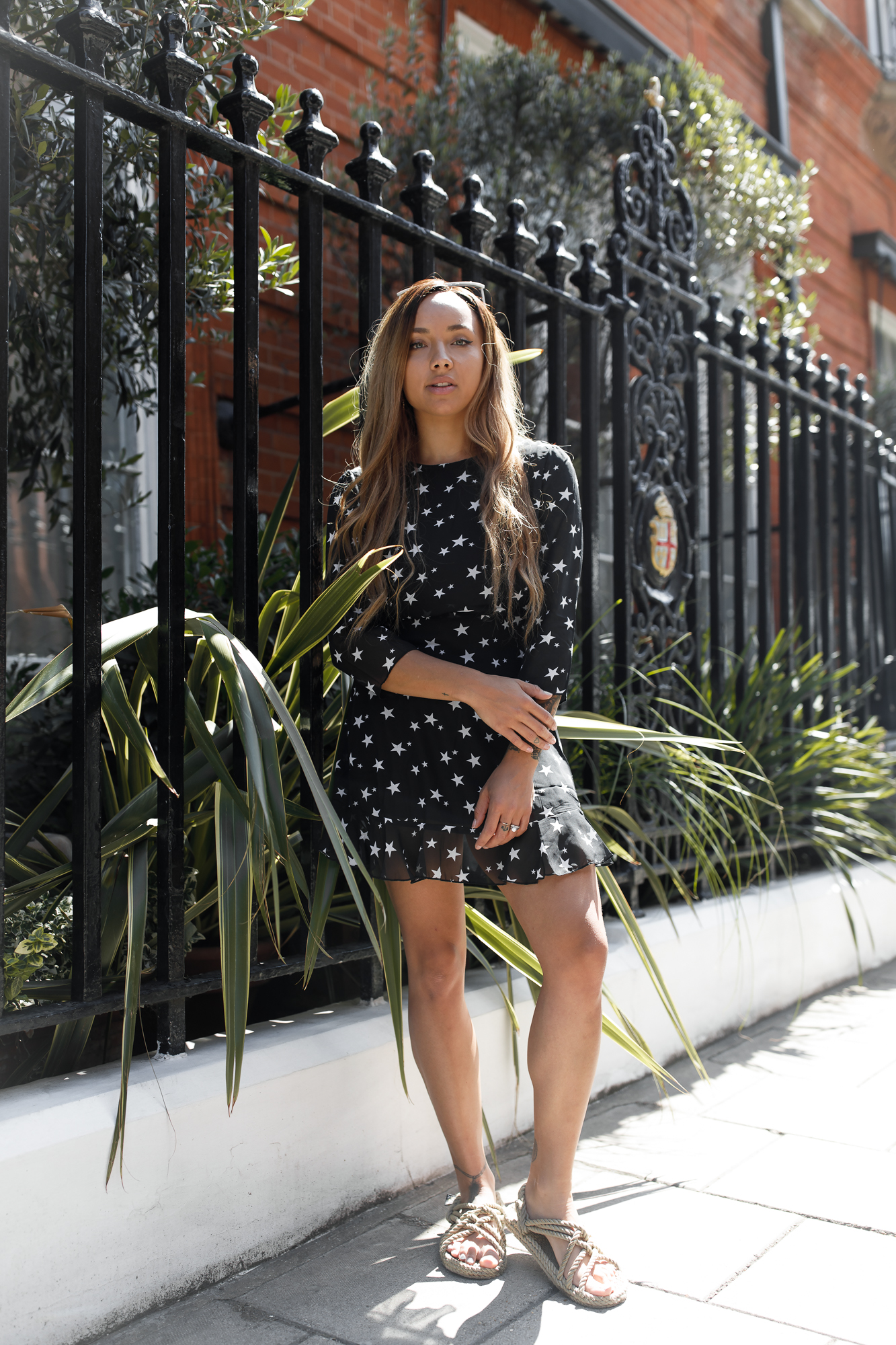 DRESS - NASTYGAL | SHOES - NOMADICSTATEOFMIND
I'm waving goodbye to our British summer for the year. This is my last floaty-dressed-summery look for what I think will be a while, unless we have some sort of freak Indian summer. (Please no.)
You probably know that I am a big fan of Autumn so i'm not too bothered by this but I cant lie, I do like the ease of summer dressing.
Summer feels like this little love affair that I have each year. The excitement to see it starts in February (or January 1st?) and as it creeps closer i'm racing to update my wardrobe to welcome it home. When it's here though and especially this year, it can be a little intense. Coming on a bit too strong, and even though you like the good parts, the parts that make you feel good about yourself (sunshine...a rarity here)...you feel after a while like it's kind of outstayed its welcome and that you'd much rather be spending time with it's more mysterious, moody, dark and handsome friend. Autumn.
So yes i'm pretty ready to say goodbye to summer, even though i'll miss the ability to throw just one layer on and leave the house freely, with the wind beneath my wings. Hey, you know what makes it worthwhile? Fluffy coats and big stompy boots.
I loved this dress this year, it's actually one which I think i'll carry through to Autumn. I have this habit of buying bold pieces thinking i'll wear them all the time and then leaving them in my cupboard because I never feel in the 'mood' to wear them. So a little challenge for myself at the moment is to wear my fun items even if i'm not in the mood - because often they actually make me feel better and brighten my day! Thats how I feel when I wear this dress, it's from Natygal (Who have amazing pieces and things are always on sale which is always good).
This will work well with a pair of sheer tights and some black boots for day, or i'll wear it for dinner and drinks out because it has the most beautiful opening at the back too which is unexpected.
As much as I moan about transitional weather, it does make for fun outfit building because you actually end up with quite a few options from both your summer and autumn wardrobe which in turn actually saves you a bit of money too. It's at this time of year that I rediscover so many items from last autumn and it's like i've got a whole new wardrobe to choose from!
SHOP THE LOOK